The Bremen Cotton Exchange and the Bremen Fibre Institute will again offer a one-day cotton seminar in Bremen on 8 November 2022 together with the Academy for Textile Finishing. The three speakers Karsten Fröse and Elke Hortmeyer (both Bremer Baumwollbörse) and Axel Drieling from the Faserinstitut Bremen will introduce the world of the cotton trade and the raw material itself. They explain what qualities there are, how cotton is tested and how world trade works. Furthermore, the seminar participants learn about the different types of fibres and how sustainable cotton is, how the product is processed and what the future of the fibre market looks like. The event offers space for further education, exchange and discussion. In addition, the Cotton Exchange provides insights into the laboratory as well as the arbitrage and classification rooms of the tradition-rich Bremen institution.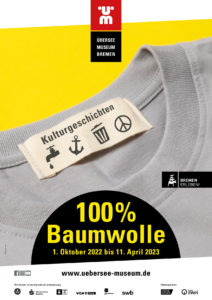 A trip to Bremen is worthwhile twice: Seminar plus exhibition "100% Cotton"
From 1 October 2022 to 11 April 2023, the Übersee-Museum in Bremen will host the large special exhibition "100% Cotton". The exhibition shows cotton as a true multi-talent. From jeans to banknotes, it is impossible to imagine our everyday life without cotton. The fluffy fibre is used in clothing, food and cosmetics and makes industrial machinery run "like clockwork". Cotton was the driving force behind both industrialisation and slavery on the plantations – with consequences that continue to this day. "100% Cotton" takes a look at the cultural history that this plant has been writing for 5000 years and also ventures a look into the future.
Free guided tour of the "100% Cotton" exhibition for seminar participants
Dr. Jan Christoph Greim, the curator of the exhibition "100 % Cotton", offers all seminar participants a free guided tour through the exhibition on the day before the cotton seminar, Monday, 7 November 2022, at 4 pm.
Information and registration: https://aka-tex.de/veranstaltungen/140