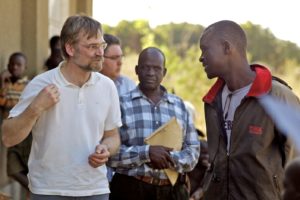 Roland Stelzer* reveals what he believes are the prerequisites: "With our Cotonea brand philosophy, we are trying to be a gain for everyone involved. For the end consumer, this means a range of first-class products, distinguished by quality and durability, as well as health safety. For retailers, we offer exceptional support with high quality in delivery and service. Employees in manufacturing work under fair trade conditions and without any health burdens at all levels. This is of course also true for the cotton farmers. The entire production chain is opened up to the customer. The market is looking for such an extensive range of services. More and more brands are using Cotonea fabrics in their products because they stand behind our brand values ​​and because the offers provided are convincing."
* Roland Stelzer is Managing Partner of the long-established German company COTONEA – GEBR. ELMER & ZWEIFEL GMBH & CO. KG, Bempflingen, Baden-Wuerttemberg, Germany.
The picture shows Roland Stelzer visiting cotton farmers in Uganda.
Source: Bremen Cotton Report 49_50_16