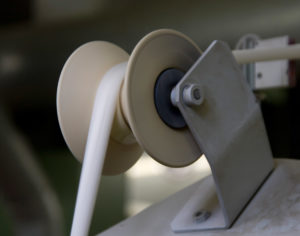 Bremen, July 2nd , 2019. For many years now, polyester and cotton blends have been used to make clothing. In addition, elastane, also known as spandex or Lycra, is used as it emphasises the fit and provides comfort.
This could change in the future, as the US research firm Cotton Incorporated, Cary, North Carolina, has now presented the market with 100% cotton elastic clothing fabrics. The newly developed product is being marketed under the Natural StretchTM brand without the use of elastane. According to information provided by the supplier, the fabric offers the elasticity and comfort that consumers are used to from wearing long-standing products.
It is known in the industry that normal cotton fabrics already have a given elasticity of three to six percent. The material developed by Cotton Incorporated creates the increased stretch effect through a special mechanical manufacturing process. The material offers highly comfortable stretch properties in combination with the naturalness and softness of cotton. The material does not lose its elasticity when worn. The fabrics can be processed into shirts and blouses, as well as denim jeans, other trousers and skirts. According to Cotton Incorporated, there are currently licensees for the manufacture and sale of Natural StretchTM fabrics in Peru, Hong Kong, China, Taiwan, Thailand, South Korea and Indonesia.
However, an additional innovation could provide a boost for change: The Commonwealth Scientific Industrial Research Organisation (CISRO), Canberra, Australia, is currently working on growing cotton seed or cotton plants whose fibres provide many of the attributes of manmade fibres such as elasticity, crease resistance, and water resistance, without restricting the natural properties of cotton.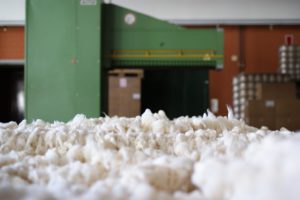 Whether these innovations will prevail depends on the readiness of the clothing industry to deal with them and undoubtedly on changes in the fashion attitudes of consumers. Based on its observations, the Bremen Cotton Exchange assumes that issues related to sustainable production will play an increasingly important role in clothing purchasing in the future. Compared to manmade fibres such as polyester, cotton has the advantage that it is natural, renewable and biodegradable.
Photos with courtesy of Spoerry 1866 AG, above: Cotton card led to spinning machine; below: Bales open
Download the Press release Stretch + Cotton
Further information and contact:
Elke Hortmeyer, Director Communications and International Relations
Phone: +49 421 3397016, E-Mail: hortmeyer@baumwollboerse.de