What challenges do you currently see for the cotton industry and the Bremen Cotton Exchange?
Jens D. Lukaczik, President Bremen cotton exchange and Executive director Cargo Control Germany GmbH & Co. KG, Bremen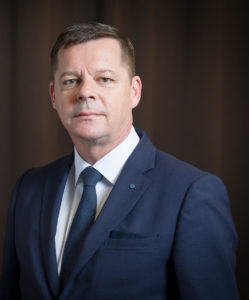 "Thanks to its extensive expertise, the Bremen Cotton Exchange has been able to distinguish itself as an important point of contact on the political level during the last year. Through our active networking we have proven ourselves as a reliable and competent partner for our members and beyond. In addition to the regular services for our members, we continue to open up our communication work and venture into new formats, such as the Sustain Conference together with the Weser-Kurier newspaper, or our social media channels.
One of the most important challenges for the cotton industry continues to be highlighting the benefits of the natural fibre over its competitors in all stages of the textile chain, from cotton farmers to end consumers. We must also act to decisively counteract the widespread misinformation about cotton. Together, the cotton industry must work on and identify solutions for the most important future topics – digitalisation, traceability, sustainability and innovation."