After implementing the first survey in 2016/17, the second worldwide Bremen Survey on Cotton Quality Demands was conducted in 2020/21. The Fibre Institute Bremen e.V. and the Bremen Cotton Exchange, supported by the ITA Academy, Aachen, organised the survey with a focus on cotton consuming industries. This year, it was complemented by another survey from the Bremen Cotton Exchange addressing retailers and brands. The aim of this Retail Survey was to gain a first impression of how the textile industry and retail evaluate for example fibre choices, supply chain transparency or sustainability and where are their priorities.
Bremen Survey on Cotton Quality Demands in the Textile Industry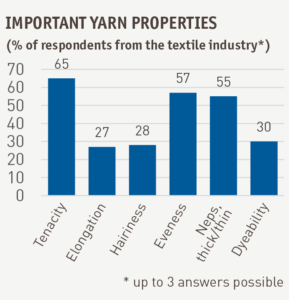 Regarding the Survey on Cotton Quality Demands, there were 249 qualified answers coming from more than 37 countries. The number of responses clearly exceeded the number of 2016/17, which had been 179. The majority of the respondents (72%) comes from spinning or the spinning machinery industry. However, respondents from other steps of the cotton value added chain were participating, too. Nearly all respondents are processing cotton.
Tenacity mostly desired, short fibre content leading deficiency
Tenacity, neps, thick/thin places and evenness were by far the most important yarn qualities mentioned, followed by elongation, hairiness and dyeability. Appropriate fibres must be able to contribute to these yarn properties. For cotton properties, most participants marked short fibre content, strength/tenacity, micronaire, and maturity as a defect or deficiency of cotton fibres that affects yarn properties. It is interesting to see that short fibre content is voted much more as a deficiency than staple length. Polyester and cellulosic fibres are considered to compete with cotton directly the most. In 2020/21, cellulosic fibres have gained significantly in importance and have even overtaken polyester, which decreased.
Sustainability, the final customers' trust, and marketing related aspects were the main reasons mentioned as advantages for using cotton from identity cotton programs. A possible price premium was less important.
Bremen Retail Survey on Quality and Sustainability
The Bremen Retail Survey received 31 answers from 24 companies: 81 percent German, 77 percent with more than 1000 employees, 39 percent brands, 42 percent retail. Participants in this survey included well-known brands such as Otto, Seidensticker, Bonprix, Witt Weiden, Tom Tailor and Tchibo. All results should be interpreted with regard to a strong bias towards sustainability in the German market.
With 56 percent, cotton has the largest share of all fibres used by the participating companies. For retailers and brands, the most important property of cotton is being a natural fibre – this statement received a 100 percent approval, followed by easy to care for, breathability and biodegradability.
79 percent answered that in their opinion viscose will be in direct competition with cotton in the future, fitting to the results from the spinners' view in the quality survey. 97 percent use cotton fabrics of cotton identity programs – mostly GOTS/organic and BCI – for sustainability reasons (100 percent) or because of the final consumers' trust/demand (68 percent), but also for marketing and image purposes (65 percent). The majority of the participants believes that during the pandemic cotton in general as well as cotton from identity cotton programs has become more important. This is in line with the view that customers buy more consciously (83 percent agreement), and sustainability has become more important (93 percent agreement).
Find the report and the presentation of both surveys during the 35th International Cotton Conference here: Bremen Surveys