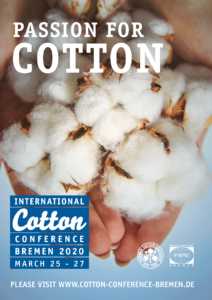 The 35th International Cotton Conference Bremen will take place from March 25 to 27, 2020 at the impressive medieval Town Hall of the Hanseatic Town of Bremen, Germany. The Conference will be surrounded by the Bremen Cotton Week (March 23 to 27) with several additional cotton and textile related meetings and workshops.
This year's theme of the International Cotton Conference is: PASSION FOR COTTON!
Visitors from all over the world are expected to attend this bi-annual event. The whole value added chain from cotton breeding and production via testing and trading to processing and finished textiles is represented in its topics, and the Conference visitors reflect the whole scope of the world of cotton.
You are invited to submit proposals for topics and speakers through our Call for Papers.
Find more information on our Conference Website: