A must for anyone who wants to keep track of the cotton business.
The recently published annual report of the Bremen Cotton Exchange provides a comprehensive analysis of the global cotton market in 2022.
Detailed country reports on the production and processing of the natural fibre along with numerous diagrams and tables make the report an essential resource for branch experts along the entire supply chain. Long-term statistics on yields, trading and on price developments illustrate trends up to the current point in time.
Focus on India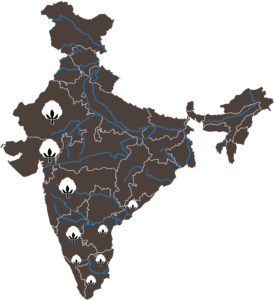 One focus this year is on the cotton situation in India – the country that has by far the largest cotton-growing area in the world. The Indian cotton production and more than 10 million mainly small farmers have been suffering from falling yields for years. This has consequences for the processing of the natural fibre in the country, too.
Further analyses in the annual report also make it clear how the various crises of the past years – Corona, war and climate change – affect various players in the global market. Furthermore, the publication includes detailed insights into the entire textile supply chain with a focus on German-speaking countries and Europe.
Activities in the Anniversary Year
The activity report of the Bremen Cotton Exchange, which is also included, highlights the activities in the jubilee year of the association's 150th anniversary. With the publication of the anniversary book, an anniversary conference with a gala dinner and a splendidly attended open day, one highlight followed the other. What becomes clear moreover is the Bremen Cotton Exchange's commitment to a wide range of initiatives relating to cotton and natural fibres as well as its integration into a wide network of partners.
Important Branch Information in English and German
Cotton traders, processors and other industry experts use the annual report regularly to make informed business decisions. The print publication with its more than 100 pages is available in English and German and can be ordered in the Shop on the Bremen Cotton Exchange website and by e-mail to info@baumwollboerse.de. Members of the association receive the report automatically, and the publication is free of charge for the press.
We will gladly answer any further questions you may have. We are also available for interviews with press representatives at any time.
Also download our press release: Annual Report 2022