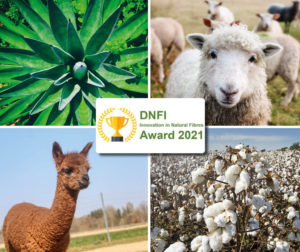 For the fifth time in a row since 2017, the Discover National Fibre Initiative is once again inviting entries for its now coveted 'DNFI Innovation in Natural Fibres Award'. The aim of the award is to raise public awareness of the achievements of the natural fibres sector as a whole by recognizing innovative progressive work and projects by people and institutions at the level of production and use of natural fibres.
"We see an increased interest in natural fibers currently. The unbeatable properties of natural made material like biodegradability and renewability, has to be emphasized. This is the future!" said Elke Hortmeyer, chairwoman of DNFI and Director of Communication and International Relations at the Bremen Cotton Exchange.
Awards will be judged in three categories: Innovative products/components or applications, innovative processes/procedures, and research/science.
Candidates for the DNFI Innovation in Natural Fibres Award 2021 are invited to submit their proposals before 10 September 2021 by email to Secretariat@DNFI.org.
An application form is available on the DNFI homepage at https://dnfi.org/dnfi-award .