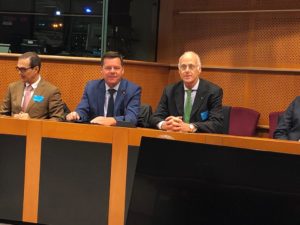 The European Cotton Alliance (ECA) was founded in February 2019. Its headquarters are located in Larisa, Greece. Seven associations from Greece and Spain are currently members.
The ECA President Antonios Siarkos and Vice President Diamas Rizzo officially introduced the alliance's tasks and objectives on October 18 on the premises of the European Parliament in Brussels. Representatives from the European cotton sector attended the event just like Jens D.Lukaczik and Fritz A. Grobien as President and Vice President from the Bremen Cotton Exchange.
From the ECA President's point of view planting cotton in Europe is of essential economic importance for the cotton producing regions. With a market share of two percent it is beyond doubt that the EU does not belong to the volume suppliers. Nevertheless the EU ranks among the ten largest cotton exporters of the world. 75 percent of its ginned cotton is exported. A large percentage returns to the European market as textile or clothing products. After all, Europe is the second largest consumer.
European cotton stands for quality. GMO-free premium seeds with a high yield are used. The cotton is 100 percent machine-picked and features high spinnability. The purchasers benefit from high grade flexibility connected with fast and reliable logistics.
According to the ECA President, it is time to reveal the excess value of European cotton to processors, retailers and consumers impressively. The establishment of a Community trademark for cotton that is of European origin will be a must-have in this regard, too. The principal objective is to work closely with the textile chain and to offer additional value to the European and international textile industry.