The venerable "Kontorhaus" on Bremen's market square was buzzing like a beehive on Saturday 21 May, as the Bremen Cotton Exchange invited visitors to its Open Day. Almost 1,000 visitors came to see the building's many architectural treasures and to learn about cotton as a raw material.
The originally planned guided tours were quickly fully booked, as were the additional tours offered. Additionally tours, which were guided by information boards, also allowed visitors to walk through the house on their own, which was received with great interest.
"We definitely did not expect so many people. The people of Bremen and the visitors from the surrounding area were impressed by both the building and our theme: cotton," said President Stephanie Silber. "This shows that the Cotton Exchange can continue well on its path of open communication."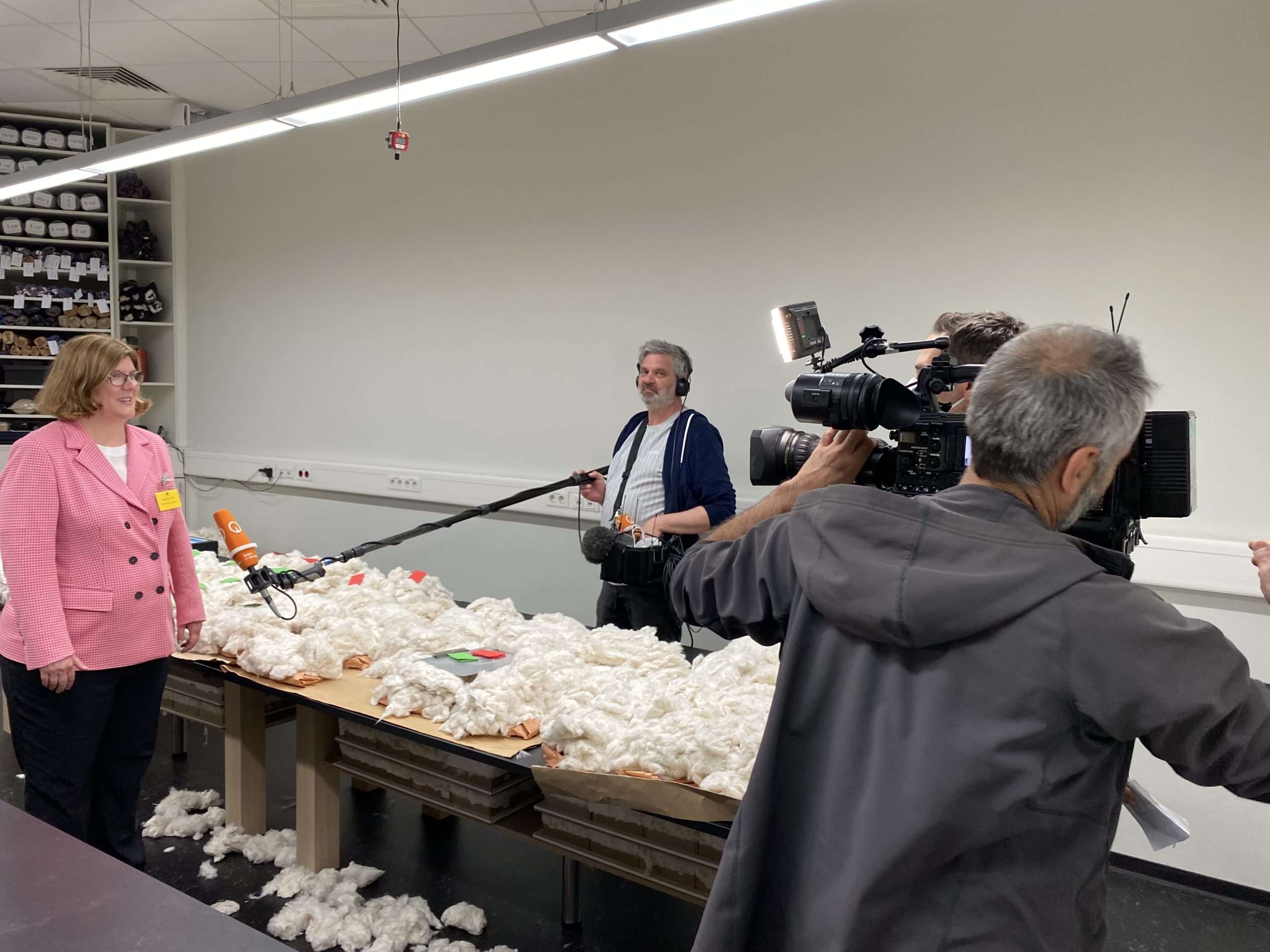 Readings Fully Booked
Bremen actor and author Dirk Böhling provided a glimpse into the history of the Association in three readings of historical documents from the Bremen Cotton Exchange. With musical accompaniment by cellist Lynda Cortis, he first read an excerpt from "Wie ich es sah" (As I saw it), a book published 1933 by former president Andreas Cramer. As a further document, Böhling presented the impressive account by the long-time director of the Bremen Cotton Exchange, Emil Schier, of his experiences on the night of the bombings in 1944, as the Bremen Cotton Exchange stood in flames. All three readings were fully booked, and the response was very positive.
Cotton to touch
The raw material cotton also attracted great interest among the visitors. The "Walk of Cotton" exhibition informed visitors about the production and processing of the natural fibre right up to the end product. In the laboratory and arbitration rooms, there was "cotton to touch" from different growing regions. Here, experts from the Cotton Exchange were on hand to answer the many questions about quality, cultivation and processing of the raw material, as well as about the importance of the Bremen Cotton Exchange as an arbitrator. Elke Hortmeyer, responsible for communication and sustainability at the Cotton Exchange: "The questions show how important cotton is for end consumers. Many people are intensively concerned with sustainable purchasing and are asking questions. This is exactly what we want."
Anniversary book with dedication
Those who had mastered the way up to the 5th floor were rewarded with a cup of coffee and the unique view of the Bremen Market Square. Many visitors took the opportunity to get a copy of the anniversary book hot off the press – some even with a personal dedication by President Stephanie Silber.
Picture Gallery of the Open Day
[ngg src="galleries" ids="4″ display="basic_slideshow"]