Interview with Jaswinder Bedi, President of ACTIF, the African Cotton and Textile Industry Federation: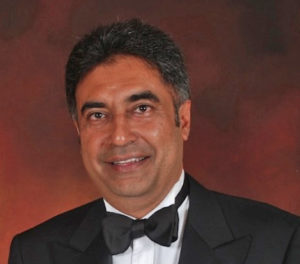 Africa produces 1.5 million tons of cotton lint, from which most of it is exported. But especially in East Africa a new motion of change seems to drive further developments in the value chain on the continent. Jaswinder Bedi, President of ACTIF, the African Cotton and Textile Industry Federation has more than 34 years of experience in the cotton and textile industry in Africa. The Cotton Report talked with him about the current and future challenges of the cotton and textile industry on the African continent.
Mr. Bedi, you have been working in the African cotton and textile industry for more than 30 years. What are the most important trends for the coming five years?
Everyone in Africa is looking to value addition of their products. 8 percent of the world's cotton is grown in Africa, mostly by small holder farmers. 75 percent of this cotton is exported. But even in West Africa, there is a new paradigm of value addition with the aim to reduce exports in their primary form. Investments in this regard have started already in East Africa, for example, Ethiopia, Uganda and Tanzania. Value addition can be a game changer for a small country and also for the jobs it creates. We can add value to all the cotton we have, which is about 1.5 million tons. We can create 9 Million jobs in the continent. This goes hand in hand with the mantra and vision of ACTIF, the African Cotton and Textile Industry Federation.
What are the main factors that are driving this change, this new paradigm in Africa?
The change is already happening. Have a look at the global dynamics of the textile industry, especially the demand: consumption in China and India is increasing. Today, the US consumes 39 kg of fiber per capita, including cotton and polyester, the demand in Europe is about 25 kg, China is consuming 15 kg and India today about 6 kg. Africa is consuming about 2.5 kg in textiles, from which 1 kg is second hand and 1.5 kg is new. If you look at the size of the pie of the US and Europe market combined, it is $550 Billion and the combined market of China and India today is $220 Billion.
Let's fast-forward to 2025 now. The consumption of textiles in India and China goes really up: Indian consumption will grow from 6 kg to 16 kg per capita, and the Chinese one from 15 to 25 kg. By then, 40 percent of the world population lives in these two countries and their market size will go from 220 billion US dollar to 740 billion US dollar. American consumption might go up to 42 kg. In the US and Europe, the market will also grow to 725 billion US dollar up from 550 US dollar. So, there will be a massive systemic shift and it will be driven largely by consumption.
How is this shift going to have an impact on the African textile chains?
In China and India you see a localized business, with reduced exports to US and Europe. China and India will be supplied by themselves. That means Africa starts to sit very very pretty. Its supply chains will get reorganized and Africa will start to play a more important role in the world of textiles. And that is what we are seeing on the ground at the moment with all the investment that is already happening. For example, in Ethiopia $2 billion has been invested already from big retailers. When large retailers like PVH Corp. (Philips-van Heusen) in Nairobi, H&M in Ethiopia and Otto Group in Kenya put boots on the ground and open shops that means they are here to stay. So it's going to be a very different world, because we are looking at a world population of 9 billion by 2050. All that consumption will be driven globally and lead to the reorganization of supply chains.
Please explain more about the role of foreign investments?
That is very critical and already happening. Most of the investment in Ethiopia is foreign investment; it's very little domestic investment. All the big guys from India and China are already in Ethiopia, like Arvind Mills, Raymond from India and Luthai or Wuxi from China. We are observing a tendency that the buyers are bringing the investors to Ethiopia, to Kenya, to East Africa. We are actually seeing buyers handholding the investors. That means the investment of the buyers is their orders putting with the existing vendors, telling the investors, when you want an expanded slice of the pie, come with us to Africa.
How can growing practices and thus yields be improved in Africa?
A lot of cotton grown in Africa is small holder farmer cotton; there is really not the large scale commercial farming. I think Africa really needs to look at a differentiated product, because it cannot compete with large scale commercial farming and Bt cotton, where the yields are so much higher. The poor farmer in Africa actually gets hit by a world price where the value proposition is totally different, because the world price is driven by large scale commercial farming and Bt cotton.
In our own cotton plantations in Uganda we brought in a brand new seed variety from Zimbabwe and we actually saw a 50 percent increase in yield. We noticed that with good economic practices the famer is taking a lot more money home.
Which role does consciously grown cotton play for the African cotton industry?
We work together with the Aid by Trade Foundation in Germany and Cotton Made in Africa. They are bringing in the consciousness onto the table and in the label. I think Africa needs to break away from that commodity world price because they are not competing on a level playing field. There are two different value propositions. For example, my own business in Uganda, when you ask me, "what is your USP (unique selling proposition)?", I say: "I don't have a USP, I have a UVP: a unique value proposition".
When you buy a t-shirt, think first: Where is it coming from, where is the cotton coming from? The consumer needs to start buying a product consciously and knowing what is behind the label. Everybody is talking about traceability and sustainability, but actually moving consumer needs in these directions are two different things.
Thank you for the interview!
Jaswinder Bedi has over 34 years of experience in the manufacturing sector in Kenya. He is an industrialist and an entrepreneur who has numerous responsibilities in business and various business member organizations. Mr Bedi runs his own spinning mill in Uganda and holds investments in other African countries as well. He is also Immediate Past President and Honorary Lifetime Member of the International Textile Manufacturers Federation (ITMF).
The interviews in the column "Question Time" embody the opinion of the respective interview partner and do not represent the position of the Bremen Cotton Exchange as neutral, independent institution.